Mercedes Benz GLA 180 Urban Edition Review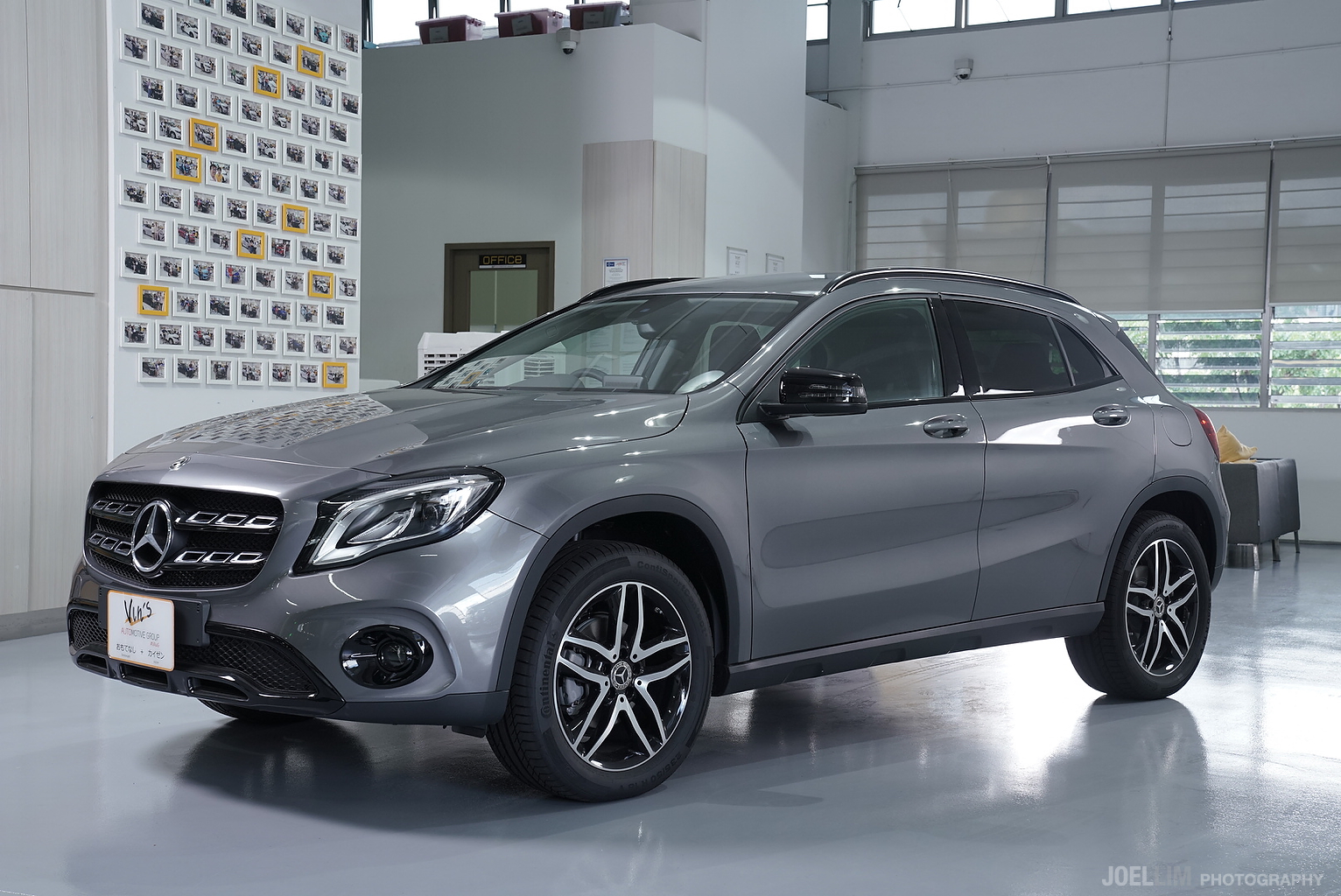 Looking at the current market trends, it seems that Mercedes Benz GLA 180 Urban Edition is a car which checks a lot of boxes. It is an SUV, which is part of the largest and still growing automotive segment. Furthermore, it is a compact SUV, which makes it good for city driving and tight parking spaces.
It is made by one of the most iconic car manufacturers in the world, so great for the brand-conscious. It is the Urban Edition model, so its design and equipment additions are welcomed by the stylish buyers.
Its powertrain seems to hit the sweet spot between fuel efficiency and performance.
The car's interior is luxurious, spacious and practical.
On paper, it seems that the Mercedes Benz GLA 180 Urban Edition is the perfect choice for someone who is looking for a good family car or a fan of hatchbacks. Let's see if this is the case in reality.
Design of the Mercedes Benz GLA Urban Edition
In terms of design, it comes with the recognizable Mercedes-Benz features such as the large MB grille, stylish headlights and creased bonnet and doors. These features are recognizable across the Mercedes-Benz range, there are even some hints that are reminiscent of the S-Class or GLC.
Having those features in a much more affordable vehicle can only be a plus.
However, being based on the A-Class, it also features the lovely side silhouette that adds a bit of coupe flair to the hatchback body.
Next, being an SUV, it boasts the elevated stance and roof rails that give it a more aggressive look.
Lastly, the Urban Edition means that it also comes with some styling cues. This package adds blacked-out trim, side mirrors and this stunning gloss black radiator grille. It also adds special 18" wheels and fog lights.
It may sound that all these features jumbled into one creation may be a bit too much, but somehow the GLA 180 Urban Edition is a very harmoniously-looking car.
Engine Specs and Drive of the GLA 180
The engine in this model is a 1.6 L turbo petrol unit with 90 kW (121 bhp) and 200 Nm of torque. Being turbocharged, the torque comes much lower in the RPM range, so the GLA 180 Urban Edition always feels ready to go as it only needs a second to get to the most comfortable pulling revs.
A great help in this respect is this 7-speed dual-clutch gearbox. While I must say that I don't really see the purpose of dual-clutch automatics in anything that is not a sports car, I have to say that it helps the engine shift fast and always be close to the most comfortable revs.
The result is the fact that, in everyday conditions, the Mercedes GLA180 feels more powerful than the numbers would suggest. Anyone used to naturally aspirated cars with similar power ratings will think that the GLA 180 has far more power.
With the century sprint of 8.7 seconds to 100 km/h and the top speed of 200 km/h, the GLA 180 is no slouch. Add to this the official fuel consumption figure of 18.2 km/L and you can see why I called the GLA180 the sweet spot between performance and efficiency.
The GLA 180 has four driving modes to choose from – Comfort, Sport, Individual and Eco modes.
Comfort is the mode most people will be using most of the time. It provides a supple ride for a small SUV, although rougher terrains will definitely shake up the interior. It also aims to improve fuel consumption by shifting earlier, but also keeps the power ready to give the push if needed. The speed of the dual-clutch gearbox really helps with fast changes in driving conditions.
Sport mode holds the gears for longer, keeping the turbo spooling and ready to unleash all the power immediately. Shifts are also faster and the steering heavier and suspension stiffer for more control in sporty driving conditions. Paddle shifters are also great fun in these conditions.
Individual mode lets you tailor settings to suit your driving style. While it may sound enticing, you may want to give the pre-set modes a try in order to get a good feel of the car's possibilities before you individualize the settings.
Check out the price and full specs of the Mercedes Benz GLA 180 Urban Edition.
Interior of the GLA 180
Even though the GLA is an entry-level Mercedes SUV, its interior is very nice, much nicer than in most competitors in the adjacent price range. This Urban Edition model comes with Nappa leather multifunction steering wheel and part-leather sports seats as standard. They provide amazing support for aggressive cornering, but they are also comfortable for long cruising. Seat adjustability means that anyone can find a good driving position.
The 8" multimedia screen is positioned very well, although some drivers will not like its tablet-like appearance. It comes standard with Apple CarPlay and Android Auto and it is very responsive and easy to use.
As known by anyone who has driven a Mercedes, ergonomics is perfect. You will get used to all the controls after a very short time and operating the plethora of features in the GLA 180 will be a breeze.
Rear seats offer great comfort for children. However, taller adults may find it too cramped on longer journeys. If you often drive tall adults in the back, you may want to look into something larger.
The boot has the capacity of 481 L with the rear seats up and 1235 L with the rear seats folded. Unfortunately, they do not fold completely flat, giving you an angled section of the boot.
Safety Features of the Urban Edition
In terms of safety, it comes with your standard and premium safety features like traction control, automatic headlights, rain sensors, cruise control, reversing camera and more.
Bottom Line
If you are expecting interior versatility that some similarly sized Honda models can give, then you will be disappointed by the GLA. However, most buyers who want something like that will not look into the GLA anyway.
Those who will look into it get the chance to enjoy one of the most luxurious cars in its price range with great interior materials, good tech, outstanding design and a punchy, efficient powertrain. While the GLA is an entry-level point into the world of Mercedes-Benz, it most definitely does not disappoint.