Parallel Importer Reviews - Our Testimonials
If you're still deciding on a parallel importer to bring in the car you've been dreaming of, why not read what some of our clients have to say about us?
Our goal and focus as a parallel importer is to always deliver the cars we bring in for our clients on time, in satisfactory condition, and equipped with the customisations we promise them. But it isn't just the one-time service we want to impress our clients with… it is the life long commitment to them not just as an importer, but also as their warranty provider, their insurance claims facilitator, servicing workshop, and much more.
We aim to provide our clients with a one-stop place for all their automotive needs and requirement.
See Why Our Clients Choose Us As
Their Recommended Car Dealer
Mr Afiq
Honda Shuttle 1.5G
Luna Silver Metallic
No regrets buying from them as they were honest & transparent on their price and policy, not to mention a good price as well!Aaron was also pleasant to deal with, also underpromising and severely over-delivering.Thanks Aaron & co, highly recommend to others to have a chat with the guys at Vin's.
Mr Zhang
Honda Vezel 1.5X
Luna Silver Metallic
Aaron has been handling my car purchase since the beginning of my enquiry. His explanation on the car package and accessories are clear and in right details. I am happy with his services up to now.
Mr Lim
Honda Shuttle 1.5G
Crystal Black Pearl
Vin's made me feel comfortable, and most importantly, Aaron was sincere and helpful to all the questions I had, patiently answering everything. With it's good pricing and top class service, I would definitely reccomend Vin's to my friends who are looking for PI cars!
Mr Lim
Honda Shuttle 1.5G
White Orchid Pearl
I chose Vin's Auto as the Parallel importer to purchase my Honda Shuttle (petrol) after recommendation from my friend.I would like to thank Aaron for his professionalism and customer oriented attitude to helping his client. Double thumb up to him. Keep up the good job.
Mr Low
Honda Shuttle 1.5G
Midnight Blue Beam Metallic
Had a great experience getting my Honda shuttle from Vin's.Aaron was responsible and efficient in helping to seal the deal. Will definitely recommend anyone who is trying to a car to go to Vin's.
Mr Tan
Honda Shuttle 1.5G
Ruse Black Metallic
Sales Aaron Yap is a very patient and helpful person who assist my request and recommend Honda shuttle that suit my need. I would like to say it was awesome service I accounted and will recommend friends and relatives to Vin's Auto Pte Ltd.
Mr Low
Honda Shuttle 1.5G
Crystal Black Pearl
Decided to head down to their office partly because of the numerous positive reviews they had online.Was served by Aaron and what clinched the deal was his honest and straightforward attitude.Overall a very positive experience and look forward to dealing with them in the future.
Mr See
Toyota CHR Hybrid 1.8S
Blue Metallic
The process was swift! Ideal for busy people!
Mr Chen
Honda Shuttle 1.5G
Crystal Black Pearl
I found Vin's automotive over Facebook and  booked our Honda Shuttle on the 1st visit.Aaron very friendly and willing to answer queries. Servicing is covered by their own workshop and I'm hopeful for a good experience. Will recommend them if you are looking for a car.
Ms Tan
Honda Shuttle 1.5G
Luna Silver Metallic
Eric was very patient and explained clearly in details. They are very transparent in their sales and did not over-promise just to get the deal.Thumbs up to the team!
Ms Janathul
Toyota Prius Alpha 1.8S
Grey Metallic
Thanks to Vin's Auto Pte Ltd for being a trustworthy partner in the purchase of our new car! Especially to Aaron who always went the extra mile to ensure our satisfaction
Mr/Mrs Sathiyan
Toyota Prius 1.8S Touring
Emotional Red
Genuine and honest guy who placed friendship first before making a sale. Thank you Aaron for all the help, we are really happy with our purchase!
Mr Ngu
Toyota Prius Alpha 1.8S
Silver Metallic
It's our first view to a PI car dealer and we booked our car in an hour time after talking to Galvin. The reason for our quick decision is the honesty and the transparency that expressed from Galvin.5 stars to Vin's automotive, I highly recommend them to you.
Mr Chew
Honda Shuttle 1.5G
Luna Silver Metallic
What a amazing service by Aaron! Look for Aaron if you looking for new car from PI. You won't go wrong as Aaron is very patient and explained things clearly and not pushy.
Mr Tan
Honda Shuttle 1.5G
Crystal Black Pearl
Really appreciate his effort and today collected my Shuttle he also went the extra steps to run through the performance of the car and accessories with me.Thumbs up to VAuG and Galvin!!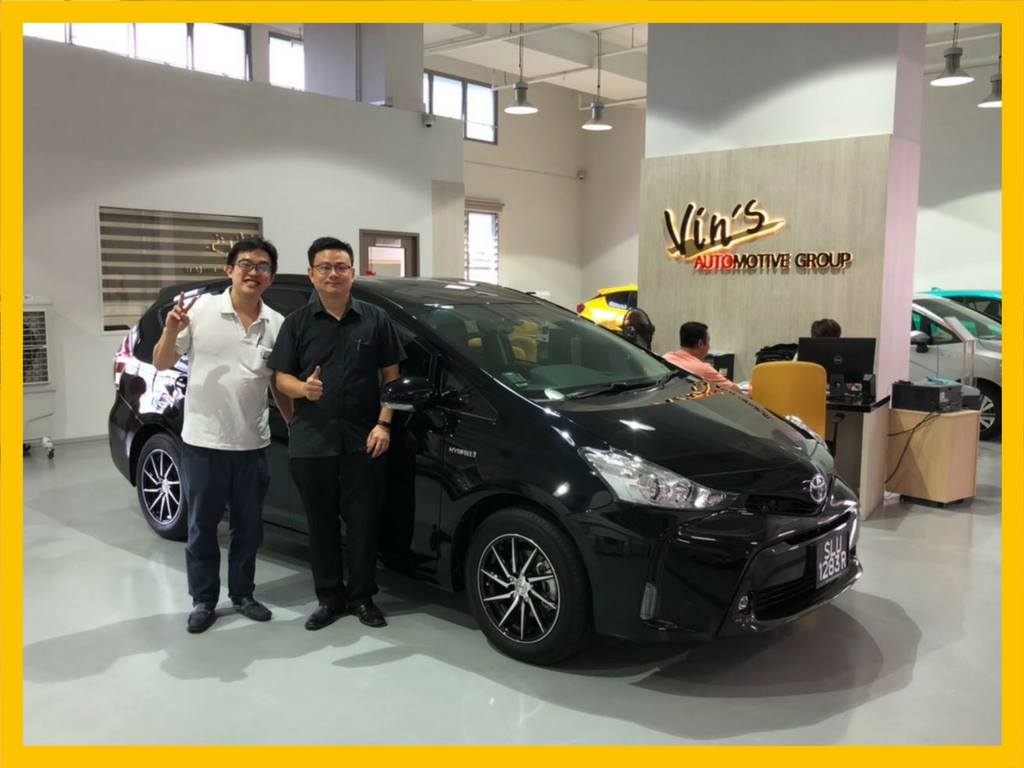 Mr Ong
Toyota Prius Alpha 1.8S
Attitude Black Mica
Despite the sharp increase in COE, Galvin & the company still release the vehicle at no extra cost. This is a very trusted company. Thanks Galvin for your excellence service.
Mr Naraen
Honda Vezel Hybrid 1.5X
Luna Silver Metallic
Thank you Aaron and Vin's Auto, for providing me with such wonderful and outstanding service. Will definitely be recommending you to my friends and family for all their Automotive needs!
Mr Kan
Honda Freed Hybrid 1.5G
Modern Steel Metallic
There is no hard selling from them and most importantly is the friendly and comfortable feeling that they (the boss and the staffs) gave us.
Mr Siew
Honda Shuttle 1.5G
Luna Silver Metallic
Aaron constantly update me on the status, and I feel so secure knowing that they are really a trustworthy PI.
Mr Low
Honda Shuttle 1.5G
Crystal Black Pearl
All accessories done so smooth that before the COE all my accessories were all up.